Dear Beings Of Light,
 Maya and Zaba discuss the acquisition  of your Stone Partners is some detail in their BOOK.  But here, briefly, is this: The bottom line is that in most cases, it is not you who finds your crystal; it is your crystal who finds you - and draws you through your ever living subconscious awareness - to her/him/it.  Therefore, the best information we know to offer you in the pursuit of your new friends is to drop into your heart-center, INTEND with all your being that you and your stone be drawn to one another, and then TRUST your impulses!
Your stone may be in the form of a skull, or may be carved in some other shape - he or she may not be cared at all. She may be right outside your back door. . .    That said, since we will be holding events in the Joshua Tree and Yucca Valley area of California, we want to let you know of two local resources:  Both the Institute of Mentalphysics (Joshua Tree Retreat Center) and the Rainbow Stew Metaphysical store have stones in stock especially for you!
Address:
55509 Twentynine Palms Hwy, Yucca Valley, CA 92284
Open 10am-6pm 

Gifts for all people to feed the mind and spirit. As our gift selection is one-of-a-kind and ever-changing, be sure to visit Rainbow Stew often for gifts for loved ones or a special "something" for yourself.  We do special orders and are happy to help you find the item you want! (Like CRYSTALS!)
And

59700 29 Palms Highway, Joshua Tree, CA 92252
Ph.(760) 365-8371
Open Monday - Saturday 9am to 5:30 pm, Sundays 10am to 3pm
Books for Body, Mind & Spirit, Videos, Meditation, Music, Crystals & Pendulums, Tibetan Prayer Flags & Batik Prayer Banners, Statues of the Buddha, Quan Yin, Our Lady of Guadalupe, etc. Incense, Clothing, Jewelry, Tarot Decks, Greeting Cards, Stained Glass, Himalayan Singing Bowls.
On Line

If you do not live in the area and do not wish to wait until close to our events to find our stone friends, investigate your local metaphysical or gem & mineral stores.  We have entered a time in which the once-rare Crystal Skull is now found in almost any store carrying crystal of any sort.  

In addition, you may find your stone on line.  We suggest that you be fully present in your intuitive mind and clear in intention as you do this, and purchase only from sources you feel certain are trustworthy. 
One source we can personally recommend is
Skull Crystals
We have a lot in stock and new crystals coming in every week!
Call Kirby  (and tell him MAYA & ZABA sent you) 
if you need a specific crystal or mineral. The distinctive pieces have been personally selected because of their exceptional qualities. Discover what you are intuitively attracted to for the unique crystals that can best assist you.
Kirby is a dear friend and a very beautiful soul. His crystals are wonderful beings as well!

 Other On Line Sources: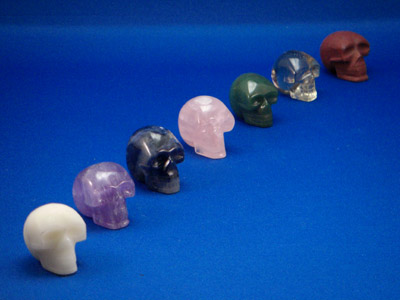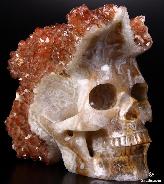 If you are a seller of crystal skulls and other crystal forms, and would like to be listed on our page, please contact us at Anila.Zaba@gmail.com 

 As quartz and other stone and crystal beings come up out of the Earth, we raise our Hearts in songs of Gratitude for these great Master Teachers in our lives. 
In offering our Gratitude, we pledge to use the Love, Healing, Information & transformation the Stone People share with us for the betterment of Life on Earth for ALL. 
To the best of our ability, let us be - -  in dream and thought and word and deed - - beings who (as Zaba says)  LIVE AS LOVE.  Every moment, every day. 
Thank you Blessed Beings of Such Light who are our
Sisters and Brothers in the Stone World.